..: All news and reports - Komerční sdělení - Svět :..
:. Hot News

:. Projects

:. Contacts

:. Latest pictures

:. Sign in

:. eShop offer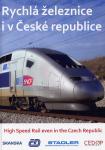 Rychlá železnice i v České republice (kniha)
:. Filter Articles

:. Search


:.
Events this week
:. Weather for Photographers

Photographing conditions
in the Czech Republic
Sun
rises at 07:20
sets at 18:16
:. New on VLAKY.NET

Historickým vláčikom na "Margecianske fajnoty"
Na netradičný festival tradičnej slovenskej kuchyne, remesiel a folklóru – Margecianske fajnoty - sa možete odviezť v sobotu 17. októbra o 11:45 hod. nostalgickým vlakom z Košíc až do Margecian a späť. ...
---

Za odklony a "štrúdly" k Opočnu
Díky výlukové činnosti ožil na nějaký čas železniční hraniční přechod mezi českým Meziměstím a polským Mieroszówem. Tak jsem se rozhodnul, že vyrazím k Orlickým horám, udělat si nějaký snímeček dvojice ...
---

Oslavy 150. výročí Turnovsko-kralupské dráhy mým pohledem
V srpnu tohoto roku se na tomto místě objevila pozvánka na oslavy 150 let Turnovsko-kralupské dráhy. Já jsem již dříve o těchto oslavách věděl, ale nějak jsem nepřemýšlel nad tím, že bych se zúčastnil. ...