..: ZelPage Reports - Černá Hora :..
:. Hot News

:. Projects

:. Contacts

:. Latest pictures

:. Sign in

:. eShop offer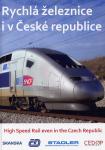 Rychlá železnice i v České republice (kniha)
:. Filter Articles

:. Search

:. Weather for Photographers

Photographing conditions
in the Czech Republic
Sun
rises at 07:54
sets at 16:00
:. New on VLAKY.NET

Tri mikulášske vlaky v dvoch štátoch počas jediného výletu
Inšpiráciou k ďalšej výprave na koľaje bývalého Československa mi bol blížiaci sa sviatok sv. Mikuláša a s ním spojené nostalgické jazdy počas víkendu 2. a 3. decembra. Aj keď som cestu do Bratislavy, ...
---

Krátke novinky z Číny (3)
Doba pokročila, posledné správy z Ríše stredu som čitateľom pripravil pred 4 mesiacmi, novinky pribúdajú, tak sa pozrime na tie miestne. Bude to zo všetkých oblastí koľajovej dopravy (dokonca koľajová ...
---

Z lovu na "Vectrony" ČD
Na rozdíl od některých let minulých nebyl začátek platnosti nového jízdního řádu našeho národního železničního dopravce tentokrát spojen s nasazením nových osobních vozů či jednotek, ale lokomotiv. Když ...