..: All news and reports - Rumunsko :..
:. Projects

:. Contacts

:. Latest pictures

:. Sign in

:. eShop offer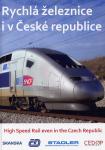 Rychlá železnice i v České republice (kniha)
:. Filter Articles

:. Search

:. Weather for Photographers

Photographing conditions
in the Czech Republic
Sun
rises at 07:54
sets at 16:29
:. New on VLAKY.NET

Němka v projektu uspěla
Na 130 procent požadovaného. Takový je závěr projektu na portálu startovac.cz. Pro fanoušky železnice je důležitá skutečnost, že plán, který uspěl a získal víc, než byla podmínka realizace, je spojen s ...
---

Elektrické lokomotivy na našich kolejích: řada 110
Stroje původní řady E 458.0 byly prvními moderními elektrickými posunovacími lokomotivami Československých státních drah (ČSD) a jejich prvními hnacími vozidly, na něž byly sériově montovány polopantografy. ...
---

Nakuknutie do Rajky a rakúske príhody (1)
Nastal deň, na ktorý som čakal. Do Bratislavy prišla zahrať slávna folková skupina Omnia z Holandska. Keďže mi prišlo vhod skĺbiť náhradné voľno s cestovaním na západ našej republiky za koncertom, rozhodol ...