..: All news and reports - ČR Vysočina :..
:. Projects

:. Contacts

:. Latest pictures

:. Sign in

:. eShop offer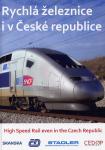 Rychlá železnice i v České republice (kniha)
:. Filter Articles

:. Search


:.
Events this week
:. Weather for Photographers

Photographing conditions
in the Czech Republic
Sun
rises at 06:47
sets at 19:01
:. New on VLAKY.NET

Tokajský expres vás odvezie nielen za vínom
Pozývame vás na už tradičnú nostalgickú jazdu do východoslovenského Čerhova za tohtoročným Tokajským vinobraním. Odchádzame v sobotu 29. septembra o 9:30 z hlavnej železničnej stanice v Košiciach. Cestovné ...
---

Ukrajinské elektrické lokomotivy
Jeden ingot jako druhý, chtělo by se říci při spatření ukrajinských elektrických lokomotiv, charakteristických svým mohutným vzhledem a bočnicemi s prolisy. I u Ukrajinských železnic (Ukrzaliznycja) však ...
---

Uplynulý rok na železnici v okolí Regensburgu
Blízkost města schovaného za šumavským hřebenem ilustruje dosah platnosti jízdenky Celodenní+Německo. Pojďme se podívat, v jakém stavu je železnice v jeho okolí a dotkněme se i jejího vývoje během uplynulého ...